Yes, #GrabDurian is back! From today (22 November) all the way till the next week (28 November), Grab is putting their special durian delivery service back to work!
https://www.instagram.com/p/Blzd6U6HW_5/
The Durian goes for SGD20 per box, with a promise of at least 400g of Mao Shan Wang in the pack. Durian Lovers are to place their order between 10 am to 12 pm and are expected to receive their order later in the day between 2-6pm. Due to certain limitations, Grab is only allowing each consumer to purchase up to a maximum of 5 boxes.
However, the affordable price tag of SGD20 per box may not last for long as the company posted on their official website a simple table with details of other dates of availability with the price column marked as "To Be Confirmed"
Durian Lover's have to check back in on GrabFood Singapore's official Instagram for a price update weekly every Thursday.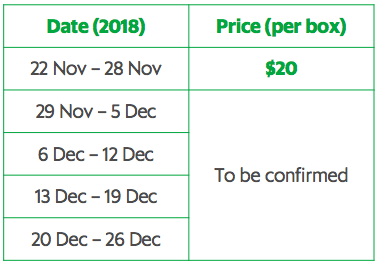 Dont forget to use the promo code DURIAN for free delivery with orders above SGD40.