As the clock tick's and the world gets into the Christmas spirit, there are loads of shopping and preparation work to get yourself ready for this well-loved festive season. Thus, we have come up with the ultimate Christmas guide just for your mum or lady friend! For today's article, we are gonna let you in on a secret! You can get selected Changi Airport's Travel Exclusive products through their iShopChangi.com e-store. Cheaper prices & it's travel exclusive plus it's tax-free. To top it all off, like our FaceBook page & we just might give you a $50 iShopChangi Online Shopping Voucher!
R.N.A.POWER EYE DUO SET – SK-II
There is never too much of a good thing. Share this with your lovely mum or keep both for yourself and make sure to never run out of what you love. This set consists of 2 x SK-II R.N.A Power Eye Cream 15g.
Price – SGD 227.00
Shop Here!
Deep Cleansing Oil Value Set (Ultime8 Sublime Beauty Cleansing Oil) – Shu Umera


Shu Uemura's award-winning cleansing oil is your one step to deep cleansing, makeup removal, and gentle skin conditioning.Ultime8 Sublime Beauty One Step Deep Cleansing Oil, a combination of eight precious oils nourishes mature skin. Take 3 to 4 pumps of oil into the palm of your dry hand. Spread gently and thoroughly on your face. Add a little lukewarm or cold water to the face and emulsify the oil until it turns milky. Rinse off thoroughly with lukewarm or cold water.
Price – SGD 124.10
Shop Here!

Long-Wear Gel Eyeliner Duo Set #Black/Sepia – By Bobbi Brown


This innovative eyeliner offers up the drama of liquid liner in a fuss-free gel base. The set includes two shades – Black Ink and Sepia Ink – as well as a mini Ultra Fine Eyeliner Brush.
Price – SGD 55.17
Shop Here!

Youth Code Ferment Pre-Essence Duo – L'oreal Paris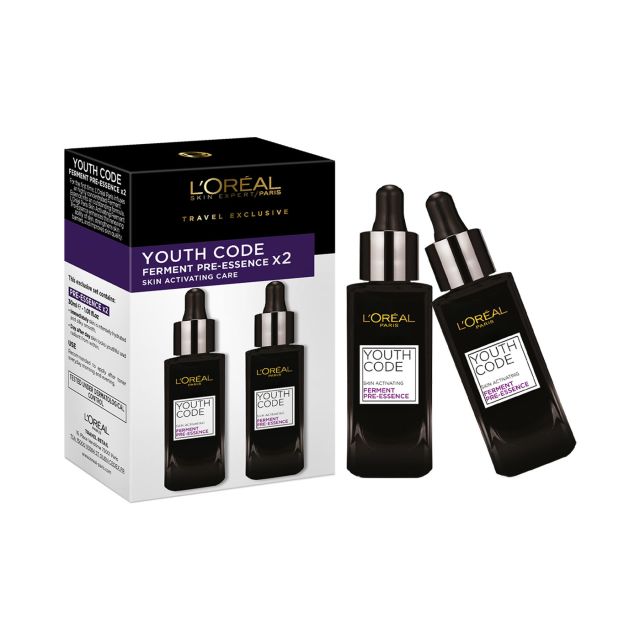 Highly concentrated Ferment Essence infused into an outstanding formula. Enhances the renewing ability of skin, strengthens skin barriers, and improves skin quality. Skin looks rested, smoother and youthfully luminous. Signs of stress, fatigue, and aging are visibly diminished. This set includes: 2 x Youth Code Duo Ferment Pre-Essence 30ml
Price – SGD 51.90
Shop Here!

Intense Repairing Set – L'OCCITANE


Discover this exclusive travel collection of Aromachologie Repairing hair care offering patented anti-breakage effectiveness with five essential oils. They help to enhance your hair's beauty right down to the tips and reflect your natural glow. This set includes Intensive Repair Shampoo 500ml + Intensive Repair Conditioner 500ml + Intensive Repair Shampoo Refill 500ml.
Price – SGD 106.90
Shop Here!
Don't forget to like our Facebook Page for a chance to get a $50 Online Shopping Voucher with iShopChangi this festive season!
For more on our Ultimate Christmas Shopping Guide Hit the photo below.